Episodes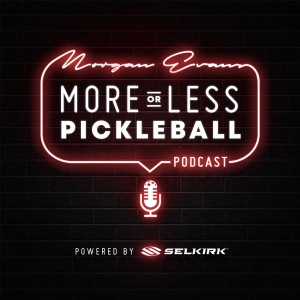 Monday Jun 14, 2021
Monday Jun 14, 2021
In this episode of Morgan Evans: More or Less Pickleball, Morgan Evans chats with the president of PickleballTournaments.com, Melissa McCurley!

Melissa is the Joan of Arc, Amelia Earhart and Florence Nightingale of Pickleball. She is the woman behind the scenes, without whom, there would be no scene!
Find out more about the podcast on pickleball.fm or follow @MoreorLessPickleball on Facebook.
Find out more about Morgan:
Find out more about today's guest:
Melissa McCurley

pickleballtournaments.com
pickleballcentral.com
Sponsors: